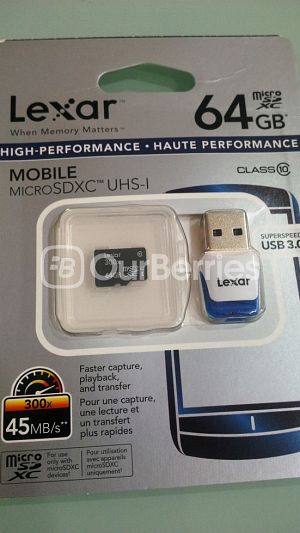 Today, we will be looking at another brand. Lexar is American brand that was bought by Micro Technologies and merged with Crucial. However, Micron have maintained Lexar separately, allowing Lexar to continue selling and manufacturing, innovating their line of flash memory products that includes memory cards and flash media. Today, we have here a mid-range Lexar microSD card, the Lexar High-Performance UHS-I microSD [300x].
Note that the card we have here is the older variant, as you can see it is the old packaging. The newer variant as seen below is white, blue with black texts. No longer does it include the USB 3.0 microsd reader either. That said, however, apart from the physical appearance, there is purportedly no difference in performance.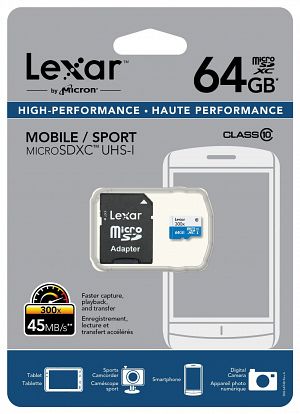 In addition to manufacturing its own line of cards, Lexar also helps to develop and market Kodak-branded flash memory products worldwide. Its parent company, Micron Technology, is also ranked among the Top 5 Semiconductor producing companies in the world and as of January 2014, its market capitalization was $26 billion.
Let's take a look at the product itself now.
On the front, we can clearly see the capacity, type of memory card,
UHS-I rating as well as the Class 10 symbol
.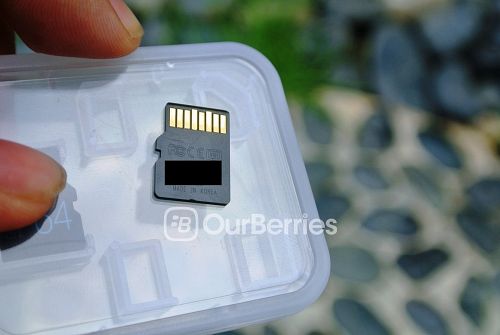 On the reverse, we have the media card certification from FCC, CE, but also its origin, which in this case is from Korea. Of course there is also the batch and serial number which we have masked out as well.
As with most of the cards, this is UHS-I Class 1 compatible together with a rating of class 10 which means we can expect a minimum performance of 10MB/s for read and write speed. Let's test it out:
First, we will be running the H2testW, a free program that tests the raw or sequential read and write of the memory module.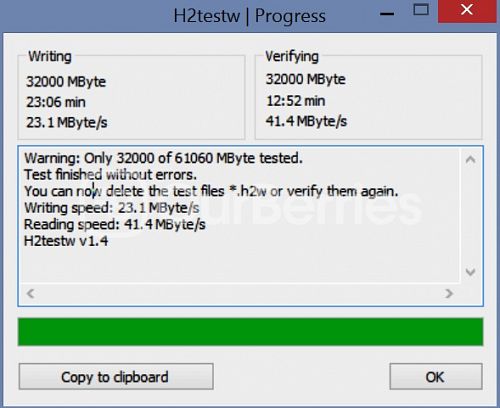 On this H2testW, the read and write speed has been rather consistent, which is pretty good. Compared to Barun Electronic's cards, this Lexar card has a slower read speed, but pretty substantial write speed.
Next, we will run the CrystalDiskMark in various capacities. The first capacity we run it on was 4000MB or 4GB. The result can be seen below: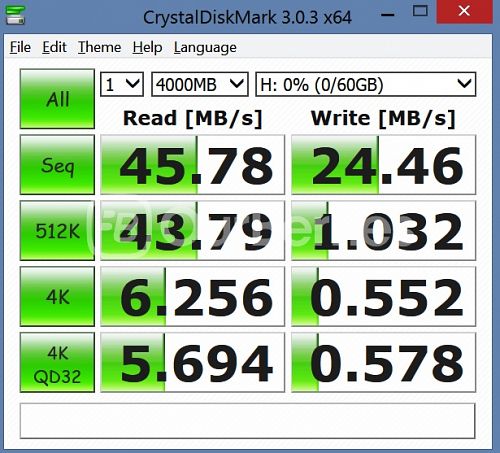 The next test, we ran the smallest test – 50MB: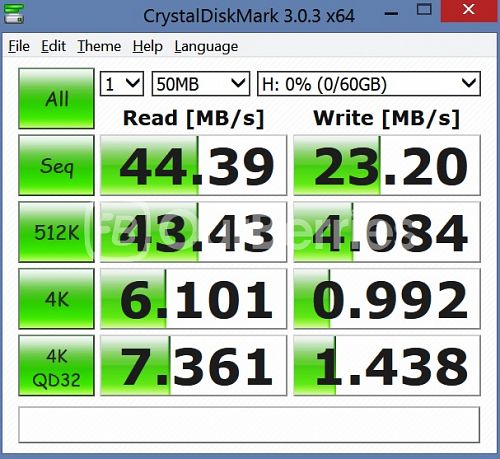 And finally, we run the middle sized test, taking the average of 5 attempts: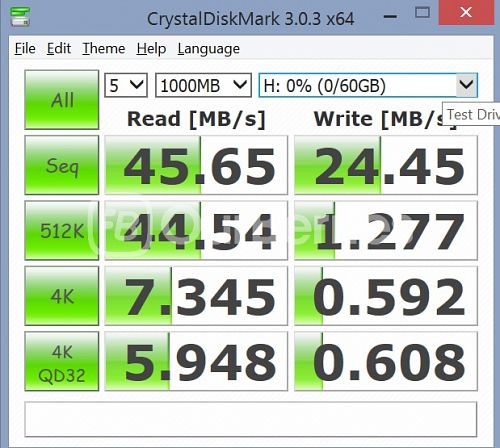 Again, when we tried to run the multiple 4K speed tests and block file test, it gave us an IO error, as such we were unable to generate the graph for it.
Overall, as we can see, the write speed had to start gradually, after which, it was pretty consistent, except for one point where there was a sudden dip in speed, for both read and write. Overall, the speed are:
Read – 44129KB/s
Write – 22026KB/s
Powered with MLC nand in the heart of the memory card, and at the price tag of around SGD$50 (64GB) for the older version or SGD$65 (64GB) for the newer variant. However, with the slight fluctuation in speed (at the start) compounded by the puzzling sudden dip in speed, it is a little weird. However, durability of this card should be pretty good, considering that it is MLC powered, and that the random read is otherwise fairly constant as well. We would, however, still recommend this for use in camera's rather than mobile device though.
Rating:
Note: This is Lexar's mid-tier card, and for their higher end card (633x) costs about SGD$90 for the 64GB variant. In addition, Lexar has launched the 128GB variant of the 633x card and is expected to be available in Singapore next month. We will cover more about this in our conclusion at the end of the microSD reviews.