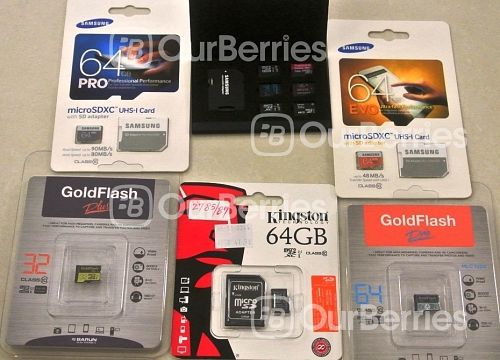 Earlier, we started off explaining the various microSD terminology to you guys and explained that we will be benchmarking the 13 various microSD against one another. So here's the summary and rounding up of the best microSD's for normal day to day usage, as well as for use in the mobile device!The tests were conducted on the ASUS UX302LG with Samsung EVO SSD as the work horse, and the cards connected to the system via Transcend RDF8 (Firmware TS22) connected via USB 3.0, h2testw 1.4 and CrystalDiskMark v3.0.3 x64.
Our testing list have included the following cards:
*Update 1 (28 July 2015) : Added Samsung Essential MicroSDHC Class 6 (8GB) [2014 Edition] to the list (order 24)
*Update 2 (5 August 2015) : Added Silicon Power MicroSDXC (64GB) to the list (order 25)
*Update 3 : Added Remax MicroSDHC (16GB) and PNY Turbo Performance MicroSDXC (64GB) [2015 edition] to the list (order 27, 28)
*Update 4: Added Kingston Class 10 UHS-I (64GB) to the list (order 29)
*Update 5: Added Lexar Professional 1000x UHS-II microSD (64GB) to the list (order 30)
*Update 6: Added Strontium Nitro 566x UHS-I microSD (64GB) to the list (Order 31)
As far as we try to find out and mention their manufacturing technologies, not every card's Nand chipset can be found, unfortunately.
Note: We included a few SDHC in terms of a SanDisk Class 4 MicroSD 32GB, Memorette Standard premium microSD 8GB for comparison purposes as well as the fake microSD card of SanDisk to highlight the every growing problem of counterfeit cards.

However, it should be noted that counterfeit is not only limited to SanDisk, but it is prevalent to almost any big brands such as Kingston, memorette, Samsung etc.
Determining the best card in terms of raw speed, we are using the Sequential results from CrystalMarkDisk, which brings the similar result and test as that of the H2testW or if you attempted to copy a (large) file to and fro a memory card.
To determine the best card for use in mobile, we look at 4K and 4K QD32 results. What is the difference though?
For sequential, the software reads/writes whatever file size you choose when you start the test sequentially. That is to say it starts writing on a sector and then writes the next part on the adjacent sector and so on.
On the other hand, 512K, 4K read/writes to random sectors on the drive, but it reads/writes 512KB or 4KB of data at a random point, then moves to the next random point. For the QD32, it is similar to 4K but there are more requests for the data sent to the chip controller.
As such, the 4K random read/write results would best mimic a card in a mobile device environment.
As such, the best microSD in terms of RAW speed (Class 10) is…
And now, the best microSD for mobile use (Class 10) is…
The worst microSD in terms of RAW speed (Class 10) [Not including Memorette (memento)] is…
The worst microSD for mobile use (Class 10) [Not including Memorette (memento)] is…
As a quick summary, here are some of the warranty duration for the memory cards:
1 Year:
5 Year:

Sony
Barun Electronics
Samsung (Essential)

10 Year:

Samsung (EVO/Pro)
SanDisk (Ultra)

Lifetime:

Kingston
SanDisk [Extreme]
Lexar
Silicon Power [Elite]
Transcend