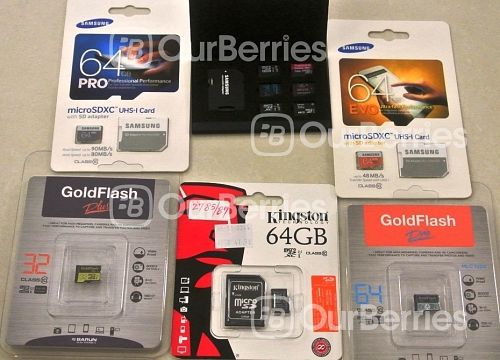 Earlier, we introduced the technology terms of the MicroSD cards. From the technology terms itself, we know that not all microSD cards are made equal, as such their performance can vary. In this round up, we will be looking at the performance of each individual microSD card from various manufacturers that we could get our hands upon, and we will have them benched marked.
The tests were conducted on the ASUS UX302LG with Samsung EVO SSD as the work horse, and the cards connected to the system via Transcend RDF8 (Firmware TS22) connected via USB 3.0, h2testw 1.4 and CrystalDiskMark v3.0.3 x64.
Our testing list will include the following cards:
As far as we try to find out and mention their manufacturing technologies, not every card's Nand chipset can be found, unfortunately.
Determining the best card in terms of raw speed, we are using the Sequential results from CrystalMarkDisk, which brings the similar result and test as that of the H2testW or if you attempted to copy a (large) file to and fro a memory card.
In the conclusion, we will be highlighting the best microSD card as well as the best microSD for mobile use.
To determine the best card for use in mobile, we will be looking at 4K and 4K QD32 results. What is the difference though?
For sequential, the software reads/writes whatever file size you choose when you start the test sequentially. That is to say it starts writing on a sector and then writes the next part on the adjacent sector and so on.
On the other hand, 512K, 4K read/writes to random sectors on the drive, but it reads/writes 512KB or 4KB of data at a random point, then moves to the next random point. For the QD32, it is similar to 4K but there are more requests for the data sent to the memory card to make it a tad more busy and stressed.
As such, the 4K random read/write results would best mimic a card in a mobile device environment.
Check out over the coming days and weeks for our individual benchmarks and for our conclusion!
Now, for the best part of this post, we have a 64GB microSD card to giveaway. How to participate? Throughout the period of the reviews, all you have to do is just either comment your experience with the card that is being reviewed if you own one, or drop us a BBM with an image of your largest or fastest microSD card!
Editor's note: We have corrected the post to reflect that Lexar is using MLC nand throughout all of their microSD cards, rather than TLC. We apologize for the initial error.