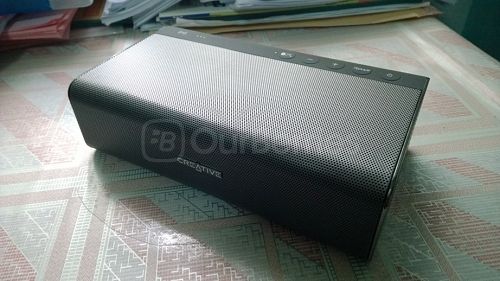 Creative have somewhat been quiet in the recent years, slipping behind many of their competitors, including Apple and Cowon. Now, they have launched their latest line up of come-back products, and one of their flagship is the speakers – The Creative Roar. Whilst the speaker market is too, getting crowded, especially due to the influx of China un-branded speakers and thanks to X-Mini's innovation for the hamburger styled speakers, Creative is hoping to get its name back as a premier brand in this segment.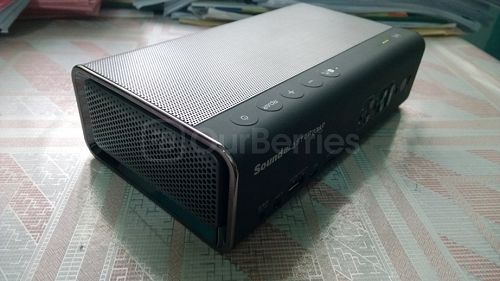 The Creative Roar speakers are built not as a rugged speaker though, unlike the likes of the Jabra, Braven series which have of late, been increasing their focus on rugged speakers.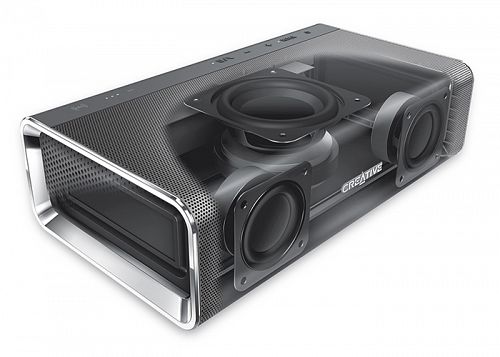 According to Creative, the Sound Blaster Roar is the result of many years of research of single piece speaker systems (which they have apparently been working on). The research involved identifying the faults and weaknesses of their current systems as well as constantly benchmarking against other reference audio systems in their listening labs to create this "true audiophile-grade" single piece speaker.
As such, Creative discovered that speakers of this type tend to be used 2 situations – a closed environment (such as a room) or moderate environments (such as parties or small gatherings). They also realized that such speakers are often played at low to mid-level volumes, and most current speaker designs lack the bass at such volumes. As such, born was the Creative Roar Speakers which aimed to address these issues.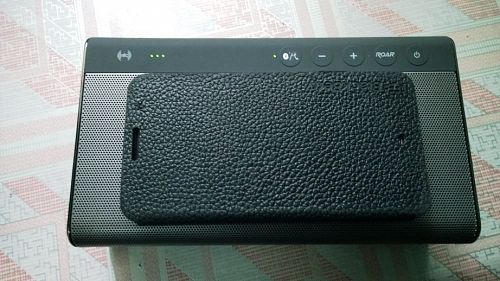 Deploying a flat box like design like many of the speakers in the market, the Creative Roar is about the size of a novel, and weighs around 1.1kg. With a metal grill and rubber, the speaker by itself is solidly-built and has a premium touch to it.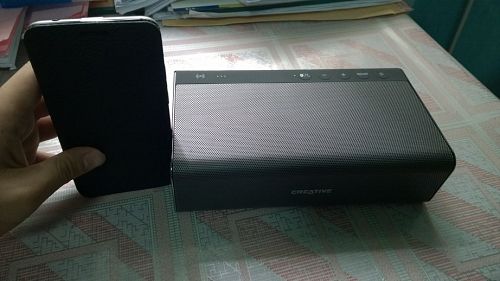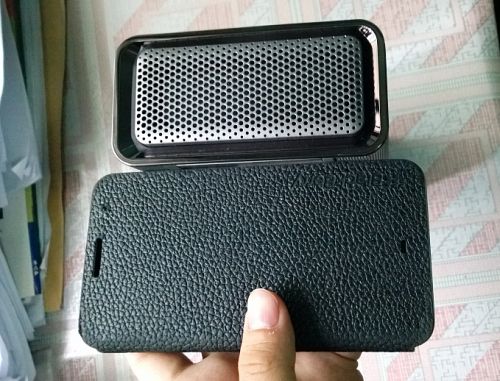 Creative has packed into this beast no less than five drivers – two forward-facing drivers in charge of the highs, an active bass unit in the middle that tackles the mids and bass and fires upwards, and finally two side firing radiators that handles the bass.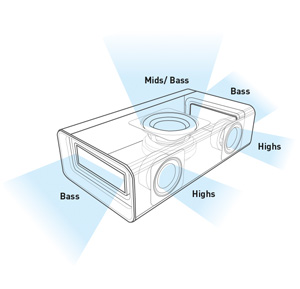 This setup, apparently is supposed to allow the Roar to effectively fill whatever environment it is in with sound and also helps it create more width and height, a complaint that is typical of many one-piece speaker systems. Another benefit is that the center of gravity of the speaker is kept lower, so that when the drivers start to vibrate more violently from increased volume, the entire speaker stays stable and does not move uncontrollably. Additionally, to ensure that all the drivers are properly powered, it also employs two separate amplifiers, allowing the drivers to be powered to their maximum levels.
Additional Features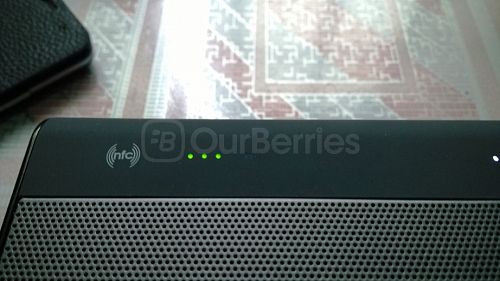 Like most of the portable speakers on the market now, the Creative Roar is a wireless speaker that lets you pair with devices either via NFC or Bluetooth with support for both aptX (which they pioneered) and AAC codecs (for iOS devices). Additionally, it comes with Creative Multipoint, which allows you to connect up to two devices to it simultaneously. However, you cannot play from these two devices simultaneously. But it does allow you to switch playback devices quickly and easily without having to disconnect the first and then linking up the second device. Above, as you can see, it has zero issues pairing up with a BlackBerry 10 or BlackBerry legacy device (with NFC).
Even if you do not have NFC, manual pairing via Bluetooth also works.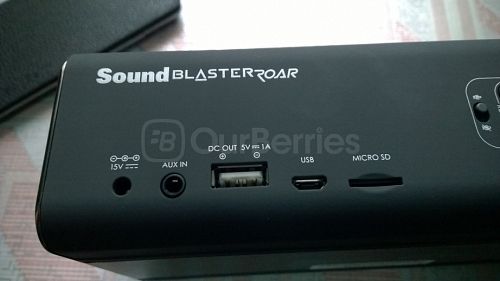 The Creative Roar also comes with a built-in microSD card reader and microphone that allows it to be used in other ways. With only WMA and MP3 support, the Creative Roar is able to play these files locally off the MicroSD card. The microphone lets users answer calls and there is also a recording button that lets users record their conversations onto the microSD card. You can also use the record function to record either directly from the microphone or from a Bluetooth or 3.5mm input.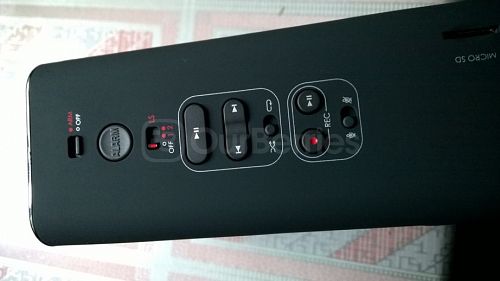 On the back, it also has a USB and micro-USB port that allows the speakers to be used as a portable battery bank to charge your other mobile devices. When connected to the PC, it also allows you to charge and use it as a speaker via the USB cable (Micro-USB) without the need for a 3.5mm cable. As fussy as devices can get, watch above for it attempting to charge a BlackBerry 10 and BlackBerry legacy device. Through the standard supplied micro-USB cable, it charges the BlackBerry 10 fine, but on the legacy, it has issues, as with any other cheap powerbanks in the market.
Apart from the standard additional features, Creative also added the Alarm button that blasts a loud siren, which acts as a distress call. There is also a Life-Saver mode that helps keep you awake and alert by playing loud and unexpected sound bites at random intervals.
Sound Performance
As a single block, powered with 5 individual speakers and dual amplifiers, one would really expect the performance of the speakers to be better than most of its competitors, but does it?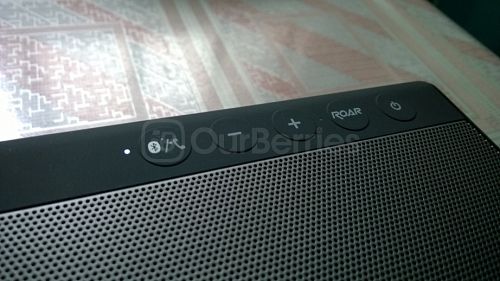 We blasted a couple of tracks at it, from Hotel California's The Eagles to Celine Dion's Incredible and Katy Perry's Roar, the speakers volume was amazing, for its size. Even with the Roar function enabled, at the loudest volume, the speakers managed to continue to churn out its music, without any distortion. Bass performance, for these portable speakers however, is incredible. Extremely punchy and deep, its performance in this segment has probably set the bar up another notch. High's were fine and fortunately, not too sharp till it irritates one. However, one noticeable issue here is with the lower mids where the sound sounded a little muddy. In addition, playing surround-sound music, the speakers falls short, really short. There was almost zero stereo separation of sound, so there is almost no distinction between left and right channel.
Conclusion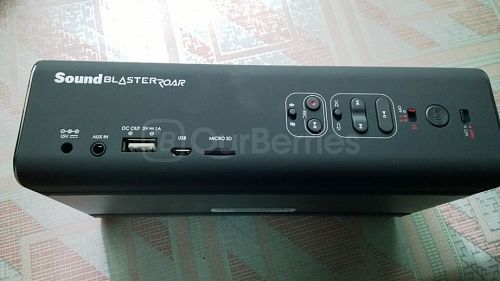 In conclusion, despite the slightly heavier weight, horrible stereo separation, the speakers together with its additional features would be useful for workaholics, students. Currently still priced at SGD$199, the speakers are a total steal. At this price range, the speakers are definitely worth the buck, if you don't already have a portable sound system. Whilst, I would not exactly classify this as a portable, due to its weight it could be worth while checking out if its used at home. Note though, because it is also not rugged, I would highly advise against bringing it out in the open such as a picnic or hiking trips, and consider alternatives such a the Braven 855s. Otherwise, Creative Roar might just please your ears.