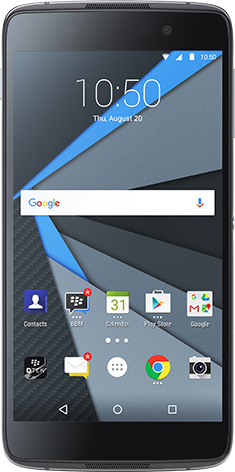 BlackBerry has just announced their latest BlackBerry device – the BlackBerry DTEK50. The BlackBerry DTEK 50 is arguably BlackBerry's slimmest device and builds on top on the Android platform. Taking the lead up from BlackBerry Priv, the BlackBerry DTEK50 is touted as the most secure Android device on the market.
DTEK50 will come with Android 6.0 Marshmallow out of the box, and as BlackBerry says, it combines BlackBerry's unique security, privacy, and productivity with the full Android experience.
You'll have access to over a million Google Play apps and widgets, Google Now, and the ability to easily manage and stream from a wide range of smart devices. DTEK50 also features a number of our own enhancements:

The BlackBerry Convenience Key: With the press of a button, gain quick access to your most-used applications, tasks, and more.
Pop-Up Widgets: View any app widget by swiping up or down across the icon on your home screen and get fast, private access to information you need, when you need it.
BlackBerry Device Search: Quickly seek out files, apps, help, and more. You can also type an Instant Actions command in the search field to execute it.
Instant Actions: Perform tasks quickly and efficiently, such as making a phone call, sending an email, sending a text message, playing music, or getting directions.
Gesture Controls: With a swipe gesture, access up to three shortcuts from anywhere on your device – swipe to open an app, speed-dial a number, send a message, and more.

DTEK50's stunning to look at. In addition to being the thinnest phone we've ever manufactured, it sports a 5.2'' full HD display capable of displaying 16 million colors. Made of scratch-resistant glass, the screen is treated with a specialized oil-resistant coating to protect against fingerprint smudges.

DTEK50 also sports a 13 MP rear-facing camera and an 8 MP front-facing flash camera, both equipped with a wide range of professional settings, including live color filters and manual controls.

DTEK50's smart keyboard learns how you type and uses that information to increase your typing speed and accuracy. Through the BlackBerry Intelligent Keyboard software, it provides word suggestions in up to three languages of your choice and lets you flick them into place for faster conversations. While typing, you can also swipe horizontally from left to right to delete a previous word, and swipe vertically from top to bottom to toggle between letters, numbers, and characters.

Device security built in from the start: Our manufacturing process builds security into the device from the start, and we've taken a number of measures such as OS hardening to protect against rooting and to make it more difficult for attackers to target you.

BlackBerry is committed to the security of your device long after you've purchased it: BlackBerry has a record of being the quickest to deliver security patches. Other smartphone makers can take weeks, months, or even years to push out Android updates, during which time you're vulnerable to already patched OS-related security threats.

Visibility and control of your privacy: DTEK by BlackBerry automatically monitors your OS and apps and lets you know when your privacy could be at risk – as well as when and how to improve it. With just a quick glimpse, DTEK tells you the overall security rating for your device (excellent, fair, or poor) along with suggestions for improving it. It also tracks your applications and notifies you when an app's doing something on your device without your knowledge (taking pictures or videos, turning your microphone on, sending a text message, or accessing your contacts/location).
Starting today, DTEK50 is available to pre-order from ShopBlackBerry.com in the U.S., Canada, UK, France, Germany, Spain, Italy, and The Netherlands for $299 USD ($429 CDN, €339, and £275).
For Singapore, we will have to wait just a little longer. (PS: If you like to order in advance, do let us know as we will be bringing them in!)