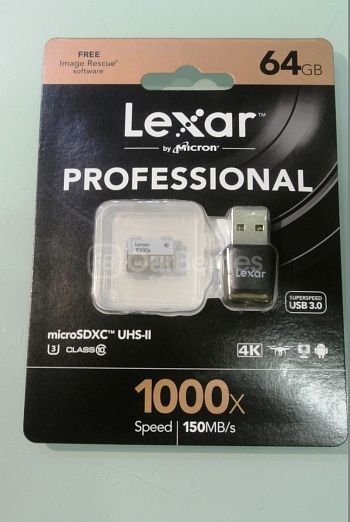 Keeping in line with cutting edge, Lexar released their first UHS-II capable microSD card, that allows them to use an additional lane of connection pins to achieve faster speeds. This is one of the first few microSD's sporting this additional set of pins, and whilst there are relatively little devices that are capable of using this just yet, Lexar also included a set of UHS-II capable microSD card reader that runs on USB 3.0. So just how much faster can this card go? Let us find out!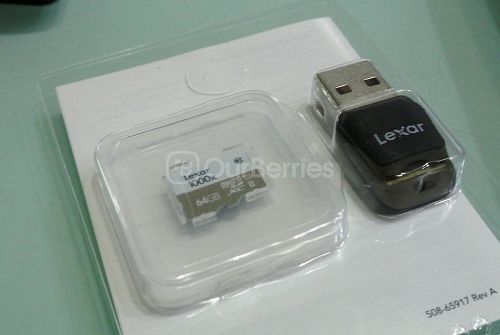 We reviewed Lexar's 300x and 633x cards previously in the past and they did not disappoint us, as such, we are excited to take a closer look at this.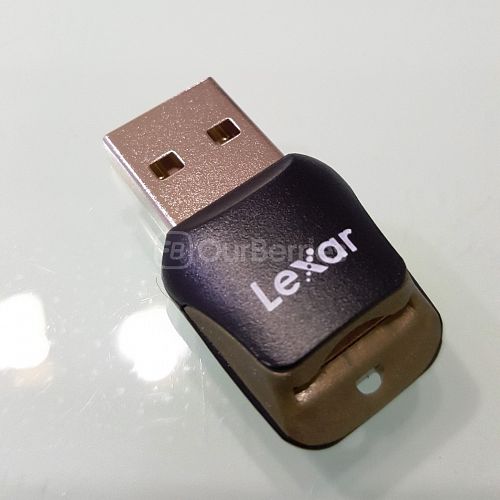 Like Lexar's 633x card, this card comes with an microSD to USB adapter, however, this time it is bumped up to support UHS-II. Gone as well is the matching Blue and white design, it is replaced by a more striking gold and black design. We'll test out the card in its 2 version below.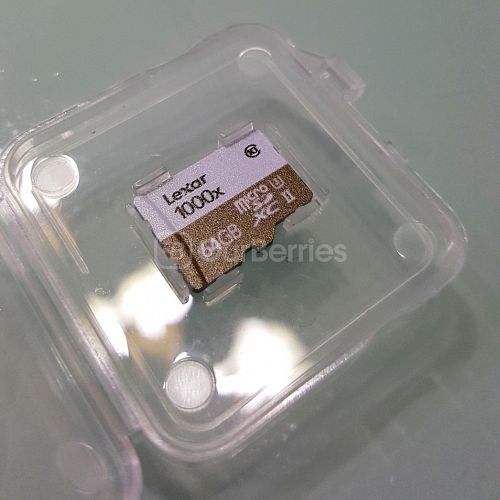 The front of card has 3 main colours – Gold, white and black. The top of the card is in white, with the brand, speed rating (1000x) and class 10 printed in black. The bottom half is in gold, with the capacity, card type (SDXC) and UHS ratings printed in white.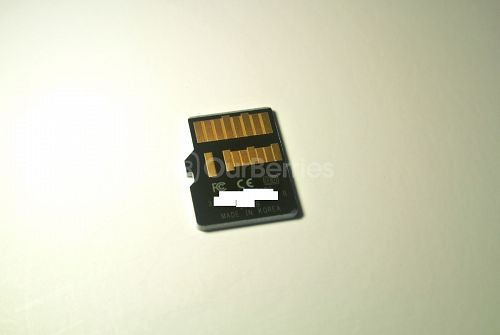 On the back of the card, we have the approvals laser etched along with serial number, model and batch number. Like the other cards, this card is made in Korea.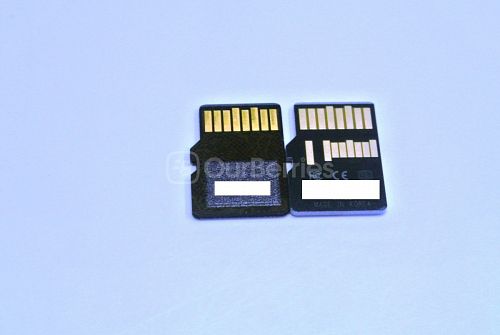 So what is that new UHS-II that we have talked about? First, we take a look at the physical component of the card. Comparing a UHS-I and UHS-II card – we have a Sandisk Extreme microSD on the left and the Lexar Professional 1000x UHS-II microSD on the right. As you can see, the UHS-I card has only a row of standard pins whereas the UHS-II card has two rows of pins. As mentioned in our knowledge base, the use of UHS-II is to increase available bandwidth, thereby increasing the potential speed of the card.
In this case, the card is rated up to 150MB/s read, 45MB/s with UHS-II, and is UHS-I Class 3 (30mb/s) rated. So how does this match up? Well, first let us put it onto the test benchmark with UHS-I only.
Benchmark Test
Our first test here is the h2testw: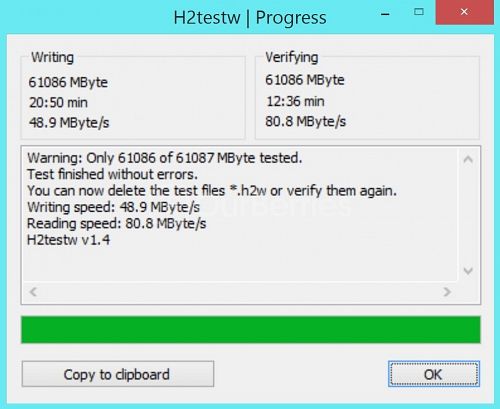 Next, we will run the CrystalDiskMark in various capacities. The first capacity we run it on was 4000MB or 4GB. The result can be seen below: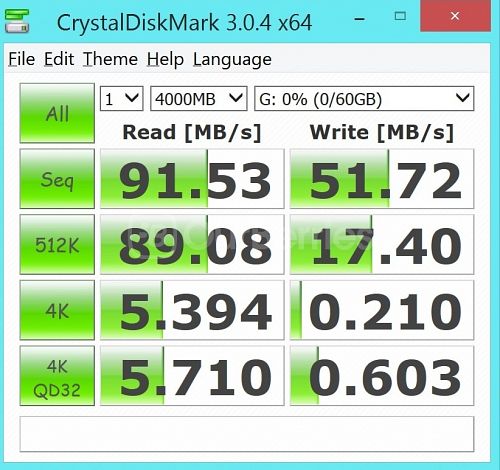 Next we run the second capacity which is the smallest or 50MB: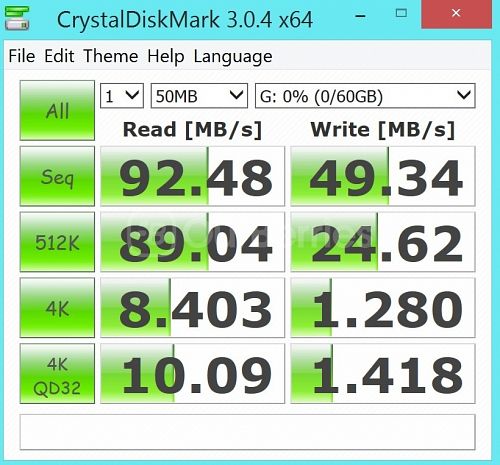 Lastly, we run the third capacity test, which tests it on the middle available volume 5 times and taking its average – 5 x 1000MB: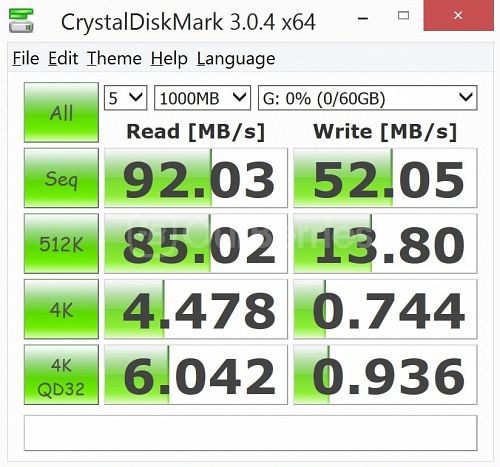 And when compiled into graphs: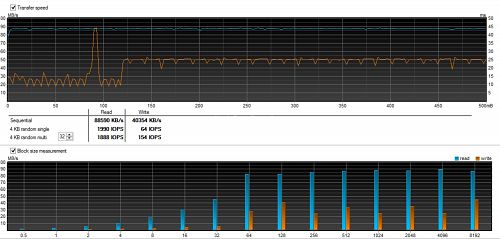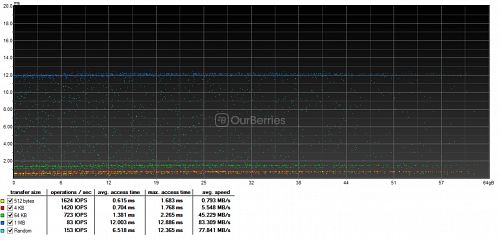 If we used the provided UHS-II adapter:
All in all, running the card in a UHS-I mode did not give it much of an advantage or boost of which we were expecting. The speed is close to (is little faster) than that of the 633X card but not by a large margin. On UHS-II mode, however, we do see that the read speed is bumped up by a pretty good margin, though the write remains similar to that of UHS-I. Nonetheless, the speeds realistically has exceeded its own given ratings, which is pretty good. In short, the speeds are as follows:
UHS-I mode
READ – 88,590 KB/s
WRITE – 40,354 KB/s

UHS-II mode
READ – 144,843 KB/s
WRITE – 46,501 KB/s
As a relatively new standard, there is not much devices using it as opposed to UHS-I, especially mobile devices, there is not much of a use in terms of mobile phones right now, for me to recommend this card over that of the 633x for mobile phone purposes. However, if your looking for a sleek way to store sequential data or even use it in a camera, it could be a good investment as it will reduce time required to copy your data out by quite a big margin via the UHS-II adapter.
It is nice to see the new adoption of the UHS-II standard to bump up the card speeds and we do look forward to more UHS-II cards and the corresponding capable devices.
Note: Model reviewed here is LSDMI64GCBAS1000R