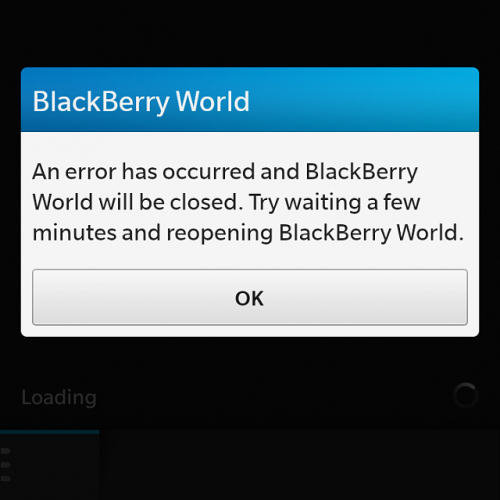 Every once in a while, I do get this error and that usually has been the case for use on Wi-Fi. Well, Bla1ze over at CrackBerry dugged this out of BlackBerry called the BlackBerry World Recovery Tool. Now, whilst this is an inconvenience, it should not even be happening, but hey, at least now there's an official tool for it!
This will be your answer if you ever have issues with BlackBerry World not loading on your device and it's not because of scheduled maintenance or network connectivity. So what does it do?
This tool is provided as a means to recover a non-functional BlackBerry World (BBW) application/client on any BB10 device (OS version 10.0.x, 10.1.x, 10.2.x, 10.3.x). This tool can only be executed from a Windows PC (MAC not supported) and your BB10 device must be plugged into this PC via USB. Upon execution, the tool will detect the BB10 Device OS you are running, automatically deliver the appropriate BBW version for that OS and do a force installation of this BBW version over any (presumed non-functional) BBW application that may or may not be present on the device. After successful execution of this tool, you should then be able to immediately launch and use the BBW client.
Once downloaded, all you need to do is connect your BlackBerry 10 smartphone to the computer via a USB cable and run the recovery tool and follow the onscreen instructions to complete the install. After that, you'll have the latest version of BlackBerry World for your specific device/OS installed and things should run fine for you.