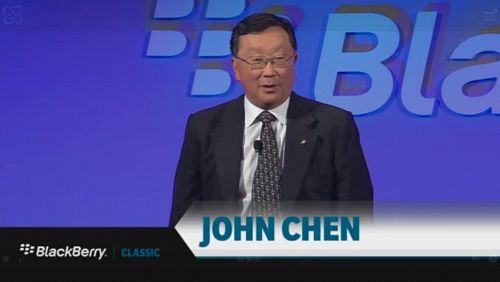 BlackBerry CEO John Chen talking about Kim K causing him a hard time, in a good way and talk about 2014. And how the keyboard is a crown jewel of the company, and he said that back in January, that the keyboard would be central going forward. Talk about product releases this year.. new BES, BBM updates, Passport. "extremely gratifying year". Passport has done very well. Lot of people love it. Lots of color variants coming out on Passport.
Chen said: "a lot of them pulled out their 9900's or Curves, and the people he talked to said don't mess around with the keyboard and trackpad."

"THE CLASSIC IS EVERYTHING YOU WANT FROM A BLACKBERRY AND SO MUCH MORE"
"BATTERY LIFE THAT POWERS YOU THROUGH THE BUSIEST DAYS"
"TAKE ON THE BIG GUYS. UPGRADED"
"THIS IS THE POWER AND PRODUCTIVITY YOU HAVE BEEN WAITING FOR. UPGRADED. INTRODUCING THE NEW BLACKBERRY CLASSIC"
Marty Beard now on stage.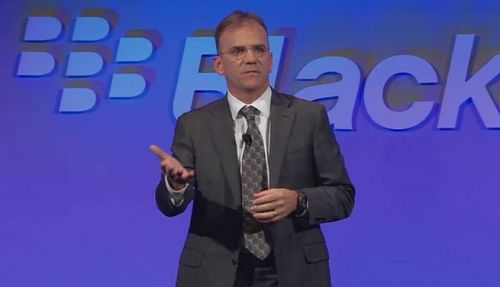 He's going to bring a customer on stage who epitomizes who they built the device for.
Joe Maxwell from Sitco. (big company you've never heard of).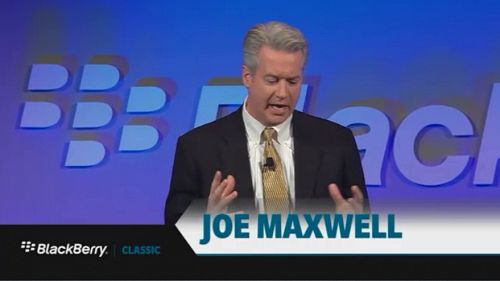 $830 billion under Sitco's control (from hedgefunds, etc.) Joe talking about the importance of security. It's EVERYTHING they think about. They're going to stick with BlackBerry long term because they NEED the security of BlackBerry. Joe personally excited for the Classic because he has "big fat fingers" and he needs the keyboards. "PLEASE KEEP THE KEYS!"
Jeff Gadway coming onto stage now to talk about the BlackBerry Classic!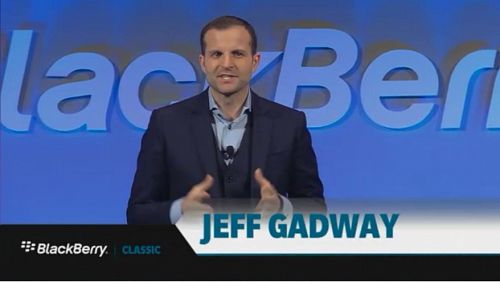 HISTORY LESSON TIME… Just showed a RIM pager 🙂
"TO THIS DAY, MANY CALL THE BOLD THE MOST PRODUCTIVE SMARTPHONE EVER MADE… and BlackBerry would agree with that"
"TODAY IS ABOUT MORE THAN JUST INTRODUCING A NEW PHONE. IT"S A RETURN TO WHAT MADE BLACKBERRY PEOPLE BLACKBERRY PEOPLE"
"NOT GOING TO STAND HERE TODAY BLIND TO THE FACT THAT WE LOST SOME OF YOU… BUT TODAY WE'RE GOING TO WIN YOU BACK"
"CLASSIC GIVES YOU THE BEST TOOLS IN A PACKAGE YOU'VE ALREADY MASTERED"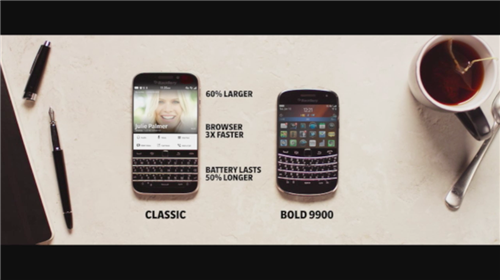 Three distinct features of keyboard:
1. Sculpted keys
2. Frets
3. Physical feedback (amount of clickiness)
All of these features give an unbeatable experience.
Muscle memory comes from the sculpted keys, frets and feedback.
"Many of said the BB10 touch keyboard is best virtual keyboard on the market". And BB agrees. But Classic physical keyboard is FOUR TIMES MORE ACCURATE than virtual BB10 keyboard.
"Some will argue that choosing a phone with a physical keyboard will mean sacrificing screen real estate"
"When the keyboard is pulled up on an iPhone 6, you're within 4% screen real estate"
Web browsing on the Classic is THREE TIMES faster than on Bold 9900. Top of class for speed and fidelity. Comes loaded with TWO app stores. BlackBerry World, and Amazon App Store
A few notes on QUALITY. BlackBerry is built to wear in, not wear out.
Talking about security being built right into the metal.. right to the silicone in the chips.
The Verge: "The phone is powered by an aging dual-core Qualcomm processor from 2012 paired with 2GB of RAM. That likely won't cut it for modern mobile gaming, but it should be fine for plowing through thousands of emails a day, which is what BlackBerry expects Classic users to do"
And they built the security stack up all the up from there.
Talking about Classic. What is CLASSIC?
CLASSIC IS TIMELESS. HIGH QUALITY DESIGN THAT NEVER GOES OUT OF STYLE.
THE SMARTPHONE YOU TRUST WITH THE POWER YOU NEVER IMAGINED
THIS IS YOUR CLASSIC. FASTER, MORE POWERFUL, AND ALWAYS SECURE. THIS IS OUR POWER, UPGRADED.
Gadway says this is the BEST BB they've ever built. His favorite. He can't put it down.
Enterprise time. Going to show how Classic works as part of an Enterprise install.. using the EMM solutions like BB Protected.
BBM Protected, Blend by BlackBerry and VPN Authentication – Will be available together in the secure productivity bundle available for BES 10/12 customers. User need to pay $6/user per month if you use BBM Protected.
Enterprise Communicator Bundle will offer BBM Protected and BBM Meetings as a bundle starting today — no BES required.
BBRY is up 2% right now $9.70
New app launches coming in key industry segments.
BlackBerry very focused on regulated industries… healthcare, government and public safety, etc.