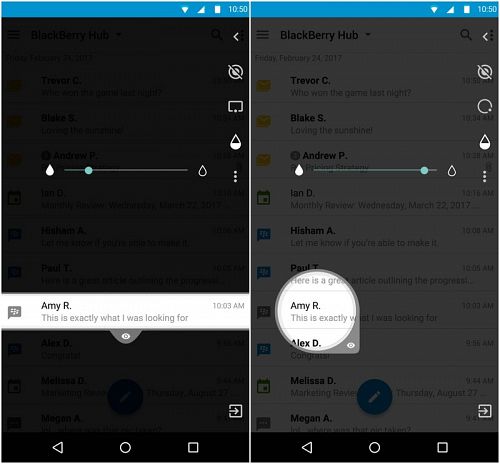 Apart from the OS update and application update, BlackBerry has also released a new application – the BlackBerry Privacy Shade for Android devices. The BlackBerry Privacy Shade, in short, is an interesting little app that allows you to selectively choose to cover (darken that screen area) anything that is displayed on your screen so that others can't look at it. Privacy Shade lets you adjust the transparency of the filter to suit the surroundings.
Privacy Shade will let you read emails, messages and personal content at any time without worrying about snoopers, even if someone is looking over your shoulder. The app allows you to view private information in public places – like on the train or in a restaurant – by obscuring the parts of the screen that you're not actively viewing or using, while still allowing you to interact with the obscured parts.
The BlackBerry Privacy Shade can be activated upon, after installing, via one of the methods mentioned below:
If you are using Android™ OS 7.0 Nougat or higher, you can add BlackBerry Privacy Shade to your Quick Settings.
If you are using a BlackBerry device with a Convenience Key, you can assign BlackBerry Privacy Shade to the Convenience Key. (Such as BlackBerry DTEK50 and DTEK60)
If you are using a BlackBerry device that supports Swipe Shortcuts, you make BlackBerry Privacy Shade one of your shortcuts.
Regardless of what Android device you're using, you can also toggle BlackBerry Privacy Shade on or off via an optional dedicated notification in the notification tray.
You can download and install the BlackBerry Privacy Shade in Play Store via this link.