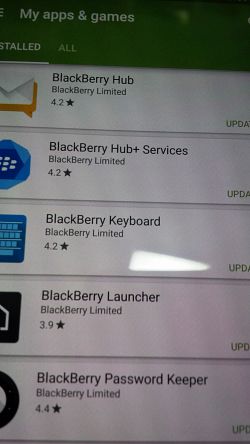 Accompanying the BlackBerry Device's Android OS update, here comes the update(s) for the BlackBerry devices powered by Android. In the Play Store on BlackBerry Priv, DTEK50 and DTEK60, you should be getting a list of updates for the BlackBerry apps. These includes the BlackBerry Hub, BlackBerry Hub+ services, Launcher, Contacts. In addition, there's a new application now – BlackBerry Privacy Shade which we will cover a little more later.
BlackBerry Hub
Additional Hub Integrations: Support for Kik and Telegram
Email Auto CC / BCC Setting: Users can now enable auto cc: or bcc: when sending a message. This setting can be applied to individual accounts.
Android Wear Notifications (beta): Hub+ notifications and the ability to read and delete Hub items via Android Wear devices (i.e. smartwatches)
Dual SIM support: Hub will support phones with dual SIMs (Such as BlackBerry Aurora). You can switch between them just like you would with multiple emails.
BlackBerry Contacts
Contact Linking and Cleanup: Improved support for finding and linking of duplicate contacts.
BlackBerry DTEK
OS Integrity Check: Users will now receive a notification if an OS Integrity issue has been detected.