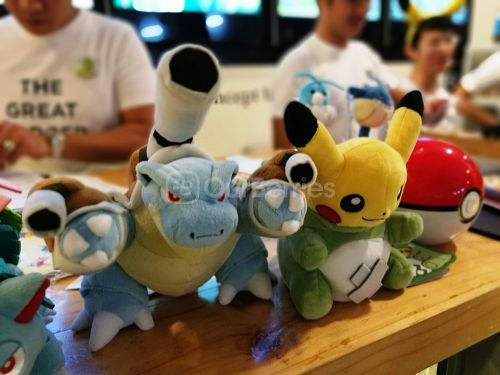 Pokémon Go, the augmented reality mobile game from Nintendo and developer Niantic Labs, is out now for both iOS and Android in select countries (at this point of time, only Australia). This, however, means that Pokémon fans will also be able to play it on your BlackBerry Priv! This game, builds on the success of Google's Niantic Lab's game – Ingress. For those who haven't heard of it, it is essentially a argumented reality game, in which it uses your smartphone's camera and sensors, as well as location-based algorithms, to place pokémon in the real world. As such, the game makes you travel around, to landmarks and notable locations in your city (or around you), so you can catch the Pokémons and then train and battle them at gyms.
While it's a free app, Pokémon Go does have extra stuff that can cost you but these are in-game purchases and are not mandatory for a normal game play. In addition, you can also purchase a US$35 wrist-worn wearable, due out some time this month, that lets you play the game without having to unlock your phone.
So here's some things you should know:
Pokémon are based on the location by both by the geography  (GPS) and by the environmental features
The means Pokémon of certain elements will be in specific areas so water-element Pokémon will appear around bodies of water, while other environments like rainforests, mountains and deserts will harbor their own unique Pokémon types. You should find quite a bit of Pokémon in parks though.
To catch a Pokémon, you have to look at your phone and swipe a Pokeball in their direction. Proper direct hits will often catch them in one try.
For now though, you can only find the first generation Pokémons. Plus since each Pokémon has its own height, weight, and combat power (aka CP), should you and another player simultaneously be in one location, you might not be able to catch or find the exact same Pokemon.
Poke-stop and Pokémon gyms are found at historical and/or artistic landmarks
Poke-stop are locations where you can collect items. It will flash a round metal tin looking with an image of where to go to get your items/gym. These locations are pulled from the same data set used for Ingress, so if you're familiar with Ingress, you'll know where to expect Poke-Stops.
For Pokémon gyms, however, note that you need to be at least level 5 in order to access it.
Hatching eggs is tied to walking distance
Sometimes you'll get an egg at a Poke-Stop. Each egg is labeled with how far you need to walk for it to hatch (for example, 2KM, 5KM, etc). In order to incubate an egg, you must find or purchase an incubator and place the egg inside, then leave the app running (it can be on in the background) while you walk.
Evolving Pokemon requires you catch more of them.
Every Pokémon caught gives you a certain amount of Evolution Materials. And to evolve a Pokémon, you need a specific number of them to evolve. For example, to evolve Charmander to Charmeleon, you will need to catch 9 more Charmanders in order to collect 25 more Charmander Candy (which is Charmander's evolution material). There is, unfortunately, a limit on how many Pokemon you can hold, but once you have all the Evolution Materials you will be able to set extra Pokémon free to make space.
Pokémon Gyms
Similar to Ingress, the gyms you visit will be controlled by one team. If the gym is controlled by your team, you can register and train your Pokémon there. There are 3 teams that you can join – Red, Blue or Yellow. If the gym is controlled by one of the other two teams, you can battle against the gym in a bid to gain control.
Each gym has two attributes: Prestige and a level. The level represents how strong its Pokémon are. Prestige is more like health points, and the higher the number, the longer the gym will be under the control of its reigning team.
The Prestige can be increased by going to the gym and train, and the higher the Prestige, the more Pokémon can be registered into the gym to train.
In the gym, to train to gain control, you fight against the other Pokémons. To launch attacks and dodge, you have to tap and swipe the screen much in the same way you use to launch a Pokeball.
Ready to catch them all?
Pokémon Go can be downloaded for free from the Play Store here or from here. If you have issues, just hit us up on BBM!