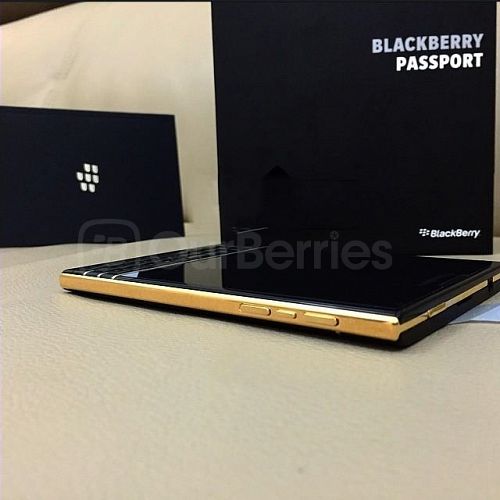 Last year, an image of the exclusive BlackBerry Passport in Black/Gold combination was sent around, but reaching out to BlackBerry, they confirmed that at that the point of time, it was not planning to produce it. However, fast forward to 2015, BlackBerry seems to be ready to release it, albeit as a limited-limited edition. Unlike the limited-edition Red, this Gold/Black BlackBerry Passport will be available, in a limited quantity of 50 pieces only.
Here's what was written on the ShopBlackBerry (for Canada):
BlackBerry is offering its most exclusive product to date: the Gold BlackBerry Passport. Only 50 Gold BlackBerry Passports worldwide have been built. With gold-colored metal trim and frets, you will quickly see that it is no ordinary Passport. Meticulously crafted and engraved with "Limited Edition" and the production number, this is an exclusive product you will want to get your hands on before they are gone. BlackBerry built the Gold Passport for the high-powered mobile professional with the most discerning taste.
There's no word on when we will see this Passport make itself available for purchase, but we do know its price. According to the listing, this exclusive device will be just $999.00. For now, trying to buy it online doesn't actually work, but it will be available just soon. Do you think it is worth that money?
Via CrackBerry for ShopBlackBerry