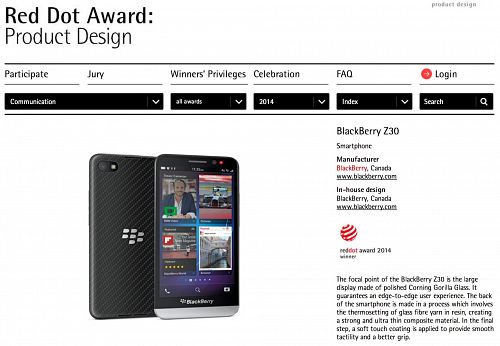 Following the BlackBerry Z10's Red Dot Design award last year, BlackBerry is back at it again. This year they have scored a total of three awards, for the Q5, Q10 and Z30 being awarded the design award. This award comes from the Red Dot international, with a 40 member expert panel that covered almost 5,000 devices from 53 countries based on quality and innovation. A big kudos to the design team behind these devices, are you proud to have a Red Dot Design device?
So, here is what the Red Dot team had to say about the award:
"The BlackBerry Design Team is honored to accept the prestigious Red Dot Product Design Award for the Q10, Q5 and Z30," said Alison Phillips, Managing Director of Industrial Design at BlackBerry. "This award is a welcomed addition to the Red Dot Product Design award the team received for the BlackBerry Z10 smartphone last year."
And here is what BlackBerry's design lead had to say:
"We pride ourselves on industrial design that is simple and intuitive in functionality, while maintaining iconic and familiar elements such as our keyboard and productivity-based user experience," said Brian Paschke, Senior Industrial Designer, Portfolio Direction at BlackBerry. "While our smartphones have evolved over time, we remain focused on being highly detail oriented in order to deliver modern and high quality devices."
Check out the award website here.