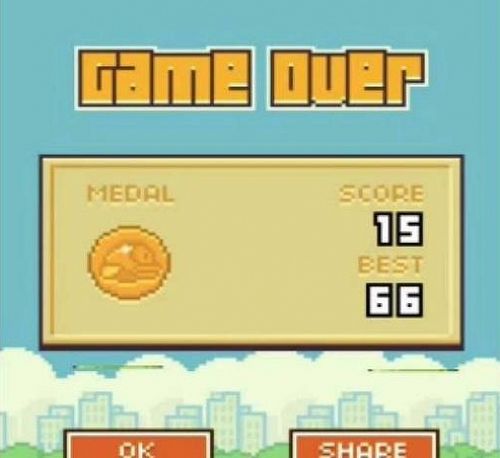 One of the most popular recent game released recently, Flappy Bird, will reportedly no longer be available tonight at 1700 GMT. Both addictive and irritating, Flappy Bird has proved to be a surprise hit, attracting more than 50 million downloads and hooking users into a time-consuming challenge now renowned for its difficulty. The developer apparently tweeted this last night.
I am sorry 'Flappy Bird' users, 22 hours from now, I will take 'Flappy Bird' down. I cannot take this anymore.

— Dong Nguyen (@dongatory) February 8, 2014
It is not anything related to legal issues. I just cannot keep it anymore.

— Dong Nguyen (@dongatory) February 8, 2014
I can call 'Flappy Bird' is a success of mine. But it also ruins my simple life. So now I hate it.

— Dong Nguyen (@dongatory) February 8, 2014
Unlike other successful game makers such as Rovio Entertainment, which produced the hugely popular Angry Birds game and has hundreds of programmers, Dong made Flappy Bird by himself in a few nights, he said on Twitter earlier.
Nonetheless, if you want, the game can still be downloaded via the likes of Snap or droidstore, as a android sideload. Although he did not mention that he is making a version specifically for BlackBerry/BlackBerry10, this announcement comes just after he announced potential support for Windows Phone.
This again is pretty surprising, after hearing all the woes of the issues small and indie developers have been facing on supporting Microsoft's platform.
Why the sudden shut down? There have been 2 rumours floating around.
First rumour has it that Nintendo had contacted him with a Cease and Decease (C&D) due to the use of the very similar green pipes (from Super Mario) which the creater had said that it was his inspiration. However, according to the game maker, it was not even considering a lawsuit.
Second rumour has it that BlueCloudSolutions had exposed his potential use of illegal methods to boost the rating before it took the world by storm. They has alleged that he used an army of bots to game Apple's app store rating. Despite questions asked, he dodged the question neither confirming nor denying the allegations which makes one wonder.
@joekloc It doesn't matter. Don't you think? If I did fake it, should Apple let it live for months?

— Dong Nguyen (@dongatory) February 4, 2014
Anyway, with an estimated cash earnings of US$50,000 a day just from the advertisement revenue alone, it is certainly a pretty good feat by itself already. For those of you whom have not tried Flappy Bird yet, try it here!