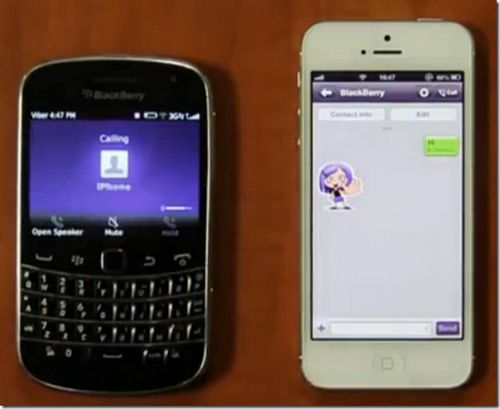 As you know, Viber is a cross platform messaging app, and on the other platforms, offering free VOIP or calls to other viber users. Unfortunately, the application for BlackBerry did not include this functionality for us. Now, Viber let the guys over at BerryReview know that voice calling function is finally coming to BlackBerry in April and even provided a video of it in action! They claim they will be the first to bring mass market cross platform VoIP service to BlackBerry which is more or less true.
Viber is also releasing an updated version of their current BlackBerry client. This new version adds their stickers and emoticons as well as other improvements in v2.3. They have also improved the user interface and conversation screen with stripes. There is also new translations for Arabic and Spanish. Other features include:
New "view location" screen
Connect with your friends in group conversations of up to 40 participants
Improved Facebook integration
Optimized scrolling for message viewing
Bug fixes
Viber has even confirmed that BlackBerry is their third popular platform even though it does not have voice calling yet.
In the words of Viber's CEO:
We have worked hard to ensure a consistent Viber experience across all of our supported platforms. This is especially true for Blackberry, which is our third most popular platform," said Talmon Marco, CEO of Viber. "We have invested significant resources in making Viber for Blackberry the best experience possible for our users. Ultimately, this experience will include voice calling, and we are thrilled to demonstrate that feature for our users.